Turn Tables
Shipping Information
Turn Tables purchased with an Oyster Table will be shipped as one order with an estimated lead time as displayed on the Oyster Table product page. Turn Tables purchased separate from an Oyster Table carry a two week lead time from date of purchase to date of shipment.
Description
Further elevate your dining and entertainment experience and maximize your oyster table's functionality with our signature turntable that fits directly into the center hole.

---
Details
Price includes wood turntable with our signature engraved COT logo as pictured.
Available in our three stain and Shou Sugi Ban finishes.
Please contact us for pricing and to discuss specifications should you desire a custom-engraved turntable.
Turn tables should be kept indoors when table is not in use.
For custom-engraved turn tables, please contact us for pricing.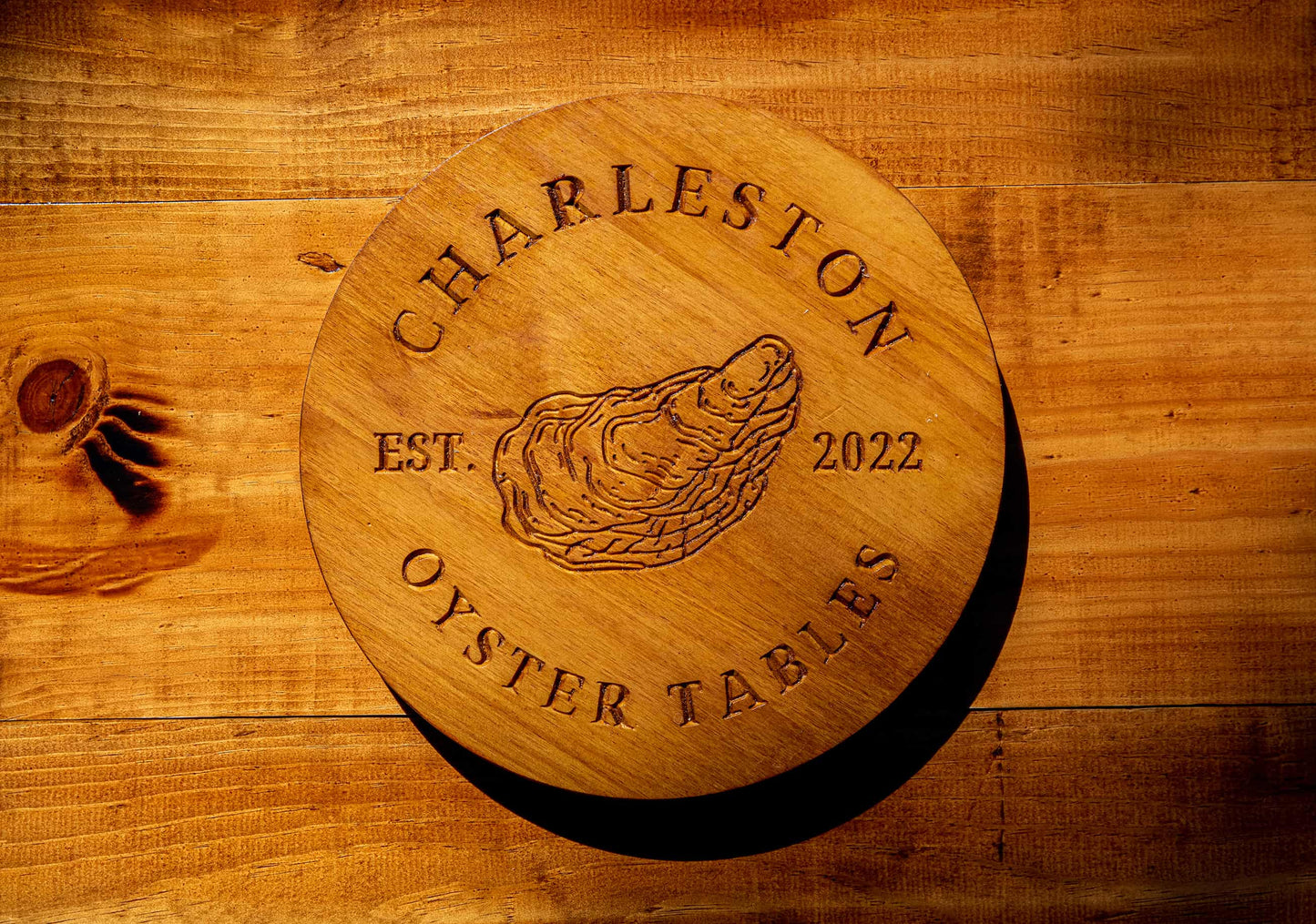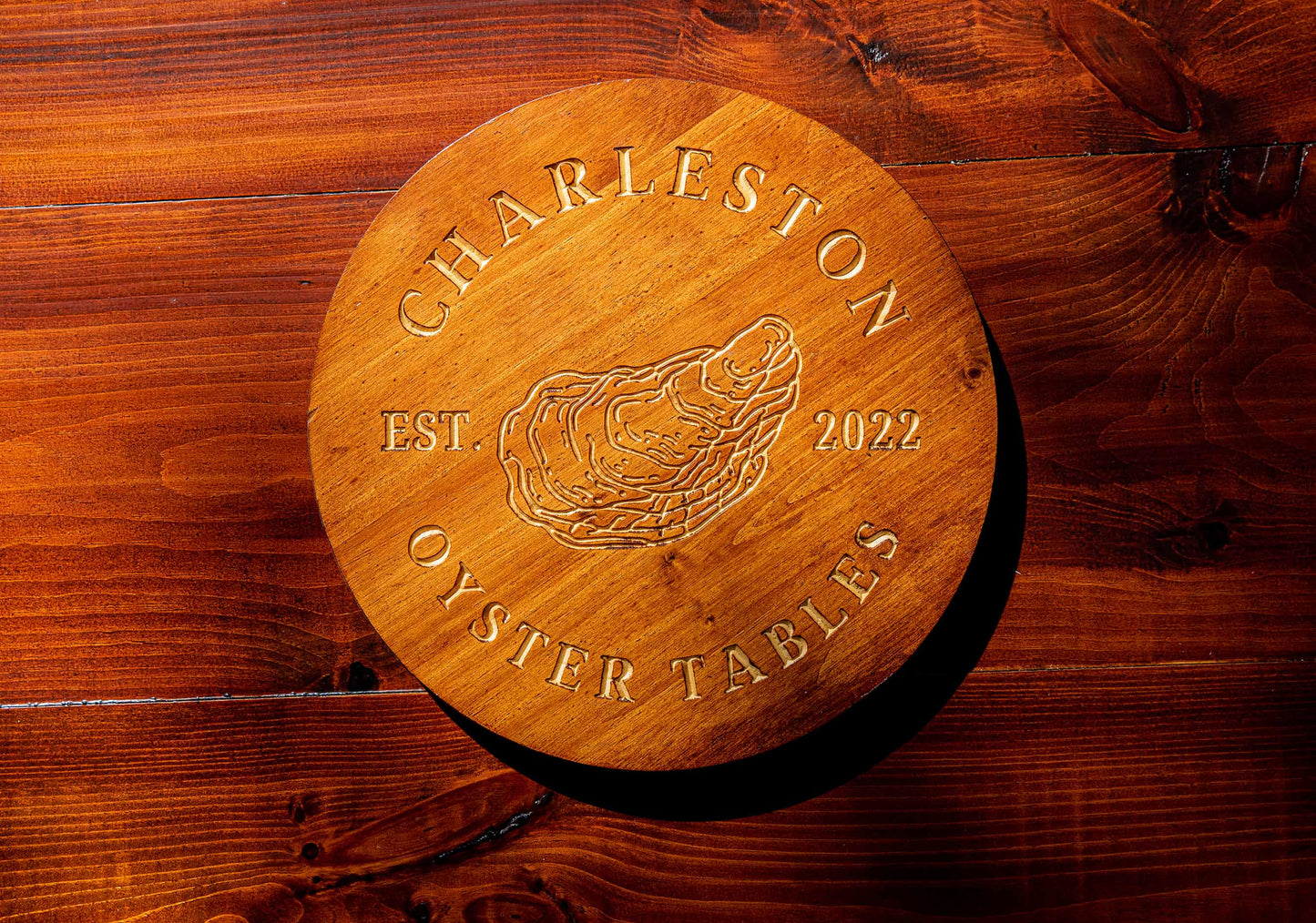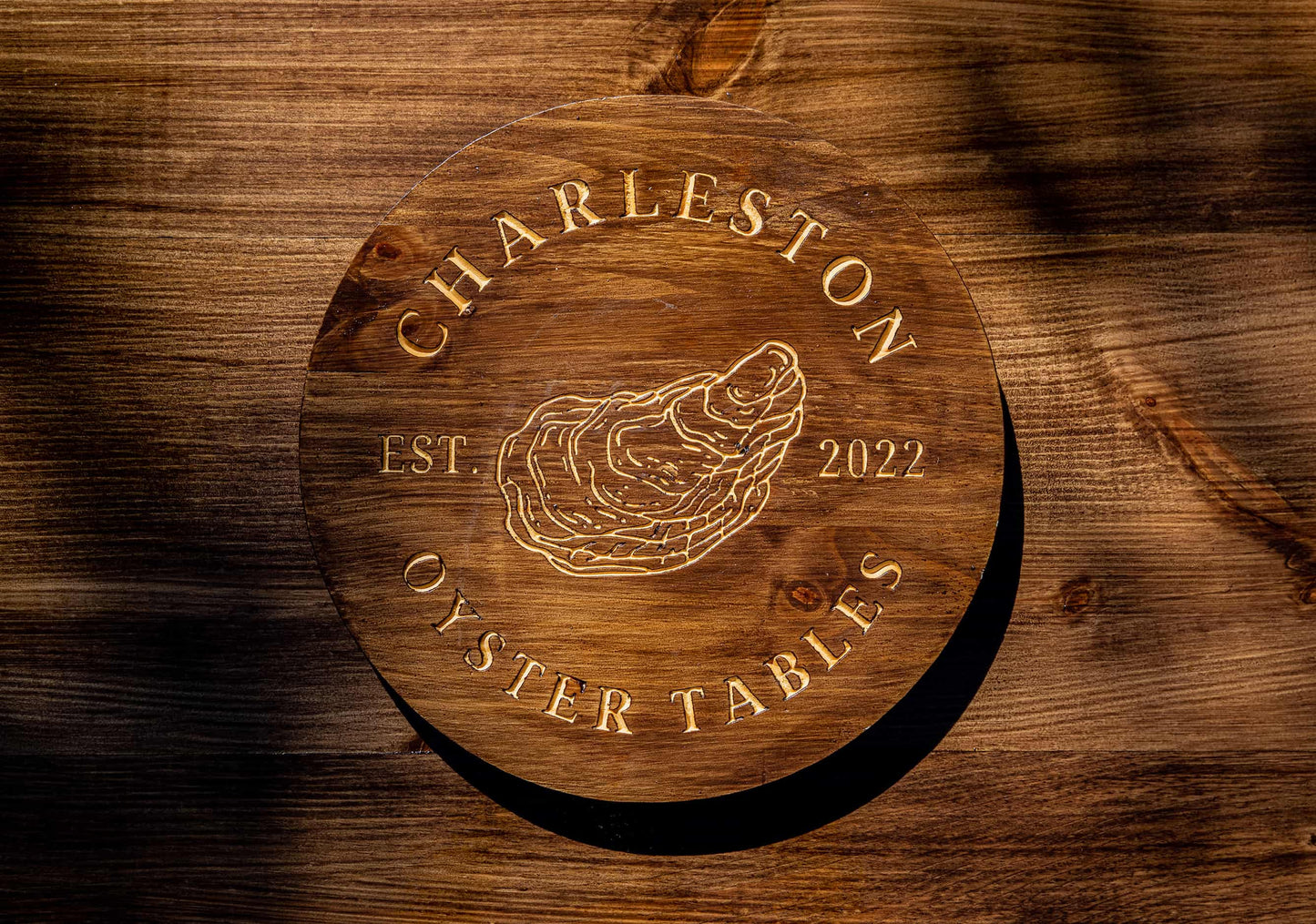 An amazing addition to my family farm
"My large table and two turn tables have been an amazing addition to my family farm in Virginia. I am more excited than ever to host Thanksgiving and Christmas for my extended family and to make memories of all of us eating oysters, hors d'oevres, and desserts around the table."
Carole S., Virginia
A wonderful piece of craftsmanship
"This is a wonderful piece of craftsmanship that is as functional as it is beautiful. The folding legs allow me to store and protect the table when not in use without taking up too much space. I haven't hosted an oyster roast yet this year  but my Wife loves the turn table and has already used it to create a charcuterie table at one of our dinner parties."
Richard H., Charleston, SC
We should start eating all our family dinners on it
"We brought our Charleston Oyster Table out for a low country boil we hosted last weekend. It has our last name engraved on the side and the compliments from our friends did not end. Plus the cleanup was a breeze. We pushed the remaining scraps of food into the bin below the center hole, wiped down the table, and were done. I joked to my Wife that we should start eating all our family dinners on it!"
Jack C., Greenville, SC
Talk about functionality
"Talk about functionality. I don't particularly enjoy oysters but loved the look and portability of the table and bought one on the fly. After discovering a champagne bucket fits perfectly in the center hole, it has become my go-to outdoor beverage table any time I have guests over. Definitely a purchase I do not regret."
Blake L., Palm Beach, FL
We have the best game-day setup in the neighborhood
"I bought a medium table and turn table for my Husband's birthday with Clemson engraved on the side. We host football parties every weekend Clemson plays and have used the table to serve game-day food on our back patio. Thank you Charleston Oyster Tables for the Instagram inspo - we even used the turn table to serve pizza! I can definitely say we have the best game-day setup in the neighborhood now."
Jennifer R., James Island, SC
It was stunning and the centerpiece of the party
"I thought my husband would use our Charleston Oyster Table more than me, but I was wrong. We host and entertain often and I keep coming up with new ways to use it. Last month I hosted an engagement party for my best friend and set up our large table on the pool deck. I put a Rose tower in the center and two floral arrangements on the turn tables at either end. It was stunning and the centerpiece of the party."
Lisa M., Sullivan's Island, SC